Back in the 1960's, during the hippie rock an roll era, another trend was gong on around this scene. This phenomenon was also known by the people at the time and all that came after, as the "groupies". The groupie was a girl who followed the music band on tour, staid with them in hotels and traveled everywhere. Each successful band had such a group of girls, and all of them knew each other.
The word itself brings out even to this day the, let's say sexual nature of the groupie. But that's not by far their most appreciated trait. Besides, often times having sex with the band, they were acting as muses for the artists. They were an intricate part of the whole music business, even if an overlooked one. Many of these girls knew about music more even the musicians themselves. Some were, and still are musicians themselves. They were so influential that the members of the bands would often times dress as the girls on stage. Just look at some of the guys from the Rolling Stones and they way they looked on stage.
Nevertheless, and by far the most well known groupie was Pamela Des Barres or "the Queen of the Groupies". She was at the top of the rock and roll "food chain" and always with the best of stars. She is widely acknowledged as the inspiration behind Penny Lane in Cameron Crowe's 2000 film Almost Famous.
"Nowadays everybody has a camera, but that was not happening back then," says Des Barres. "I'm very appreciative that someone had the presence of mind to take pictures of us. I never thought that some day we'd be seen as important."New generations of groupies have not been held in such high estimation: "There will always be women who follow celebrities," says Baron Wolman, but it has become "cruder: they have one goal in mind and that's what they're going after".
Judy and Karen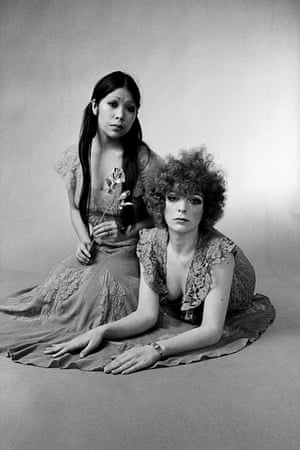 Baron Wolman: "Judy Wong, on the left, had a clothing store in San Francisco, and all the famous designers wanted to have their clothes in her store. She provided a lot of the clothes for the Cockettes, this group of mostly guys who would perform wearing dresses. She and Karen [Seltenrich] would come to the studio together in these amazing clothes that nobody was wearing at the time. Karen, she knew the bands very well. She had a really great wardrobe; she loved to dress up. Now she's in LA, she sold real estate for a while. I don't know what Judy is up to now."
The Sanchez twins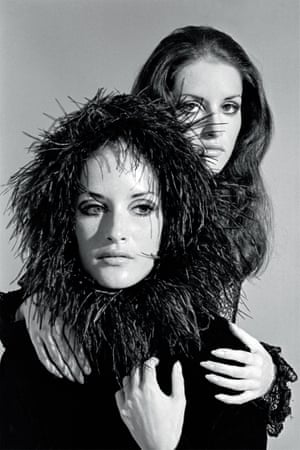 Baron Wolman: "They were just gorgeous. They hung out with the bands, and at the time they were 17, 18 years old. They were identical twins but didn't photograph identically. Their mum owned a restaurant that I used to go to all the time, so I'd see them there working, and talk to their mother. You can see they loved to pose."
Lacy, reading Rolling Stone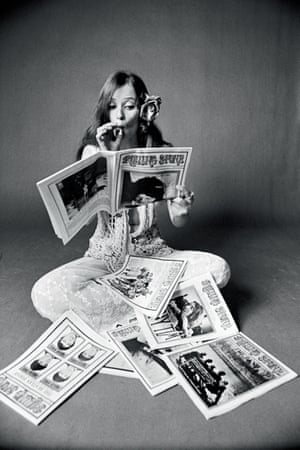 Baron Wolman: "Lacy was so sexy. I just fell in love with her immediately. In those days everybody was smoking pot. So she lit up a joint and then I spreadRolling Stone out in front of her, because we wanted to make a Christmas card that we'd send out to all our subscribers. This was after our first year, shortly after we started publishing. I don't know what Lacy is up to now; she's one of the few [women] we can't find."
Pamela Des Barres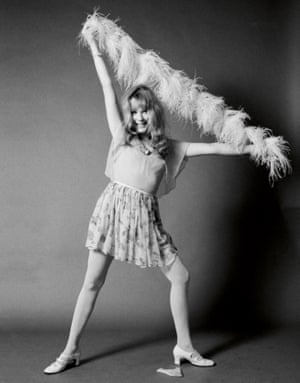 Pamela Des Barres: "There were very few girl groups, so for most girls, all they could do to be around the music was to be with the guys in the bands. In those days it was much easier to meet bands, and there weren't as many girls trying to do it. So it wasn't difficult if you were a pretty girl to meet Mick Jagger or Jimmy Page. They were hanging out in clubs in Los Angeles and you could just say hello. There was a different feel in the air: you could just hang out and there was not a lot of judgment going on. As groupies, muses, whatever, we were friendly with a lot of these people. Some of the girls didn't sleep with the guys, they just wanted to be backstage and be part of the scene."
The GTOs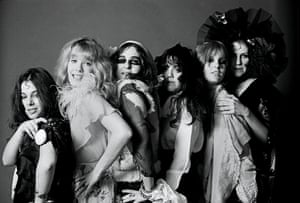 Girls Together Only (or Occasionally, or Outrageously, or Orally) were a group, formed by Frank Zappa, of seven girls – the six pictured here (from left) are Miss Sandra, Miss Pamela, Miss Mercy, Miss Sparky, Miss Cynderella and Miss Christine – whose performances in the LA area included dance, theatre and music.
Pamela Des Barres: "The GTOs were one of the first girl groups. We were a really outrageous, loud group of girls who just wanted to turn heads and have fun. Unfortunately most of the GTOs are gone now. There were seven of us, now there's three. All kinds of things took them off this earth, but Mercy and I are still very friendly, and Sparky is still around. Gail Zappa [Frank's wife] just passed, which was devastating for me.Things have changed, but I'm still kicking."
Trixie Merkin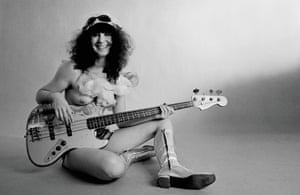 Baron Wolman: "Some [of the girls] could play music. Trixie, for example, was a bass guitarist, and was upset when they called her a groupie. She said, 'I'm not a groupie! I'm a musician'. For this shoot she came to the studio and decided to wear what you see. I didn't have any input. What do you say to a topless bass guitar player? She was stylish. We're still in touch: at 70, she's still playing with a band."